Journalist/Author Visit with Melissa Burch
Thursday, Sept. 29th from 6:30-7:30pm

Join us for an evening with Melissa Burch! Melissa Burch is an author, filmmaker, producer and former war journalist for the BBC, CBS, and other networks, as well as a spiritual practitioner Melissa will be here at the Newbury Town Library on her book tour to talk to us about her book, My Journey Through War and Peace, and her experiences in Afghanistan. Register here to save your spot!
FREE Downloadable music with your library card!  Stream whole albums.  Downloaded songs don't have to be returned. Apps for mobile use.  Click here to check it out!

Are you an Amazon shopper? Every time you shop at AmazonSmile, Amazon will donate .05% to Friends of Newbury Town Library.
All you need to do is start shopping with your regular account at smile.amazon.com and then choose "Friends of Newbury Town Library" as your charity. For more info, go to the Friends of the NTL's website!

Check out a cake pan with your library card!
Big Bird, Mickey Mouse & more. Stop in to see our full lineup!

Overdrive Advantage Titles now available to Newbury patrons only.  Extra copies of popular eBooks & Audiobooks.  Click here to see what's available.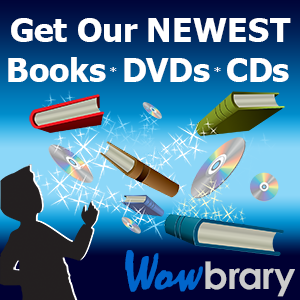 Sign up here for weekly emails with the newest additions to the library's
collection.


The World's #1 Language Course for children. 

The Friends of the Library Book Store is in full swing and overflowing with books! Lots of great titles. $5 to fill a bag.
Can Hypnosis Help You?
Find out on Wed., Oct. 12th from 1-2pm

Andy Morris, local Hypnosis Practitioner will demonstrate hypnosis and ways that it can help with many health conditions for people of all ages. If you've ever wondered if hypnosis might help you this is the chance to find out more about it, free of sales pitches. Please register here to save your spot!
Music Through the Decades with David Polansky
Sat., Oct 22 from 1-2pm

Using keyboard, trumpet, and vocals David brings alive the music of George M. Cohan, Irving Berlin, Fats Waller, George Gershwin, Hoagy Carmichael, and a host of others. David engages the audience, taking questions, performing requests, and telling anecdotes about famous musicians as well as some about his own life as a musician. A career musician, David has played with Sandler and Young, Phyllis Diller, Henny Youngman, Ray Bolger, Arthur Fiedler, The Platters, The Coasters….The list goes on and on. Register online to save your spot!
NEW!

 Check out our TECH HELP FACEBOOK PAGE for when you can't make it to the library with your questions.
Confused by that device that was supposed to change your life? Need help with word processing & spreadsheets, internet browsing, and email?  Not sure how to safely store your documents, photos and music?   Bring your questions and device to the library on Wednesdays from 12-2pm for one on one assistance from Mike Olson. No registration necessary.
The Commonwealth Catalog extends your search beyond your local library's resources. In one easy step, you can search through millions of items at participating libraries across Massachusetts to find the books, DVDs, and music you're looking for. Make a request and it will be delivered right to your local library for quick pickup. You know what you want – let the Commonwealth Catalog help you get it. Click here to find out how.

NTL Book Club August 2016 Read
Dead Wake by Erik Larson
Meets Thursday, August 25th  6-7 pm.
New members always welcome!

Reading & listening to books on your mobile device just got easier with Overdrive's new mobile app.  Download to your device by clicking on the icon on the left. Need help?  Find it here! 


Click here to find out about recent enhancements to the Library Catalog, including book reviews and creating wish lists.
Coffee is available at the library. Provided by the Friends of the Library. $1.00 donation encouraged.
---