*NEW* Genealogy Club this fall!
Thursday, November 10th from 5:30-6:30p
Meet with like minded people interested in tracing their family history.
Try out Ancestry.com on the library's computers or your own laptop.
Meets in the Local History Room.
Click here to register
---

FREE Downloadable music with your library card!  Stream whole albums.  Downloaded songs don't have to be returned. Apps for mobile use.  Click here to check it out!
---
---

Are you an Amazon shopper? Every time you shop at AmazonSmile, Amazon will donate .05% to Friends of Newbury Town Library.
All you need to do is start shopping with your regular account at smile.amazon.com and then choose "Friends of Newbury Town Library" as your charity. For more info, go to the Friends of the NTL's website!
---

Check out a cake pan with your library card!
Big Bird, Mickey Mouse & more. Stop in to see our full lineup!

Overdrive Advantage Titles now available to Newbury patrons only.  Extra copies of popular eBooks & Audiobooks.  Click here to see what's available.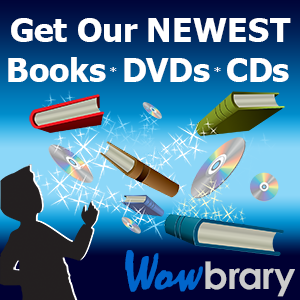 Sign up here for weekly emails with the newest additions to the library's
collection.


The World's #1 Language Course for children. 

The Friends of the Library Book Store is in full swing and overflowing with books! Lots of great titles. $5 to fill a bag.
Music Through the Decades with David Polansky!
Sat., Oct 22 from 1-2pm
Using keyboard, trumpet, and vocals David brings alive the music of George M. Cohan, Irving Berlin, Fats Waller, George Gershwin, Hoagy Carmichael, and a host of others. David engages the audience, taking questions, performing requests, and telling anecdotes about famous musicians as well as some about his own life as a musician. A career musician, David has played with Sandler and Young, Phyllis Diller, Henny Youngman, Ray Bolger, Arthur Fiedler, The Platters, The Coasters….The list goes on and on. Register online to save your spot!
---

Harvest Festival
Sat., Oct. 29th from 10a-2p
At this fall festival and celebration, enjoy great food, fall-themed kids' activities, and a chili and chowder cookoff – all to benefit the Newbury Town Library's programs for children and adults. This year's festivities include: A Halloween costume parade, Henna Tattoos, Scarecrow crafts, and
Raffle items. This annual event is organized by the Friends of the Newbury Town Library. Donations gladly accepted; all money raised will go directly to help fund programs, services, and events at NTL. For more details, go to the Friends of the Newbury Town Library website at: friendsofnewburytownlibrary.com


---
NEW!

Free 5-week Class: iPad for Beginners – Wednesday nights, 6:30-8:30pm, starting Oct. 19th
Are you a new iPad user? Are you thinking of getting an iPad? Can't understand what an iPad does or why you would use one? Bring your iPad to the Newbury Town Library for a hands-on, guided tutorial in a 5-week series on Wednesday nights, starting October 19th from 6:30 – 8:30 PM. (We have 3 iPads that can be shared during class if you do not have your own.) This class is for those who have little or no experience with the iPad. You will be able to operate the iPad yourself, ask questions and get answers. Come to one session, or come to all. Each has it's own individual online registration. Click on the class/date you are interested in to sign up. Click here for more details on each class.
---

In celebration of the season, please join us for a special evening of "Readings of Gratitude" by the Nevertheless Writers, accompanied by classical guitarist, Scott Ouellette: Friday, November 18th at 7pm in the Community Room. The Nevertheless Writers — Holly Robinson, Susan Paradis, Edith Maxwell, Nancy Crochiere, and Elizabeth Atkinson — are all local, award-winning authors who write in different genres. Scott Ouellette is an accomplished classical guitarist and composer. Readings and music to be followed by a Q&A about writing and publishing. Free, family-friendly, and open to the public. Please register on our online calendar to save your seat.
---
Check out our TECH HELP FACEBOOK PAGE for when you can't make it to the library with your questions.
Confused by that device that was supposed to change your life? Need help with word processing & spreadsheets, internet browsing, and email?  Not sure how to safely store your documents, photos and music?   Bring your questions and device to the library on Wednesdays from 12-2pm for one on one assistance from Mike Olson. No registration necessary.
---
The Commonwealth Catalog extends your search beyond your local library's resources. In one easy step, you can search through millions of items at participating libraries across Massachusetts to find the books, DVDs, and music you're looking for. Make a request and it will be delivered right to your local library for quick pickup. You know what you want – let the Commonwealth Catalog help you get it. Click here to find out how.
---
NTL Book Club October 2016:
Eat, Pray, Love by Elizabeth Gilbert
Meets Thursday, October 26th  6-7 pm.
New members always welcome!
---

Reading & listening to books on your mobile device just got easier with Overdrive's new mobile app.  Download to your device by clicking on the icon on the left. Need help?  Find it here! 


Click here to find out about recent enhancements to the Library Catalog, including book reviews and creating wish lists.
Coffee is available at the library. Provided by the Friends of the Library. $1.00 donation encouraged.
---